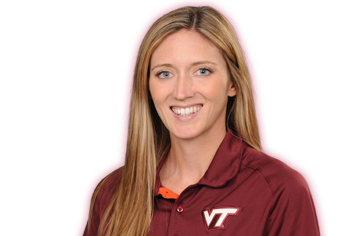 Former USA Softball Player of the Year and three-time ACC Player of the Year Angela Tincher O'Brien is back for her fifth season as the Hokies' pitching coach.
Since her return to Blacksburg, O'Brien has worked with pitching staffs that have guided the Hokies to two NCAA Regional appearances. O'Brien most recently helped develop Maggie Tyler, an NFCA All-Region pick and a first team All-ACC selection who ranks third in the program record book with 700 strikeouts and seventh with a 2.95 career ERA.
Her staff in 2015 finished third in the ACC in both opponent's batting average (.233) and strikeouts (403) en route to the program's fourth-consecutive NCAA Regional berth. The Hokies also had three different pitchers finish in the top 10 of the ACC in ERA, opponent's batting average and strikeouts that season.
In her first season back with the program, O'Brien's staff helped lift the Hokies to a third-place finish in the ACC with a 19-9 conference record and a 36-23 overall mark. Hokie pitchers fanned 362 batters that season, the second-most in the conference, and had a staff ERA of 3.49.
A 2008 graduate of Virginia Tech, Tincher led the Hokies to their first College World Series appearance in 2008 and was a recipient of the Lowe's Senior Class award. She was twice named a first-team All-American and won college softball's top honor as national player of the year in 2008. During her senior season, she recorded a no-hitter against the USA Olympic Softball team, which ended Team USA's 185-game pre-Olympic win streak. She was also a three-time Academic All-American and winner of a NCAA Top VIII post-graduate scholarship after graduating with a 3.84 GPA in finance from the prestigious Pamplin School of Business.
She was a 2008 finalist for the ESPY award honoring the College Female Athlete of the Year and one of five finalists for the Honda-Broderick Cup, which is awarded to the NCAA's top female athlete. She won a gold medal at the 2006 World University Games in Taiwan.
While pitching for the orange and maroon, the Eagle Rock, Virginia, native went 123-35 over four years with a 0.78 ERA and 2,149 strikeouts - the third most in NCAA history of softball at any level. She is one of only two players in NCAA history to record 600 or more strikeouts in two different seasons and she led the nation in ERA her junior and senior years. Tincher also led the nation in strikeouts her final year and tossed 14 solo no-hitters, including two perfect games, in NCAA competition while compiling 120 double-digit strikeout games for her career, including 42 of 16 or more.
Upon graduation, she was drafted in the first round by the National Pro Fastpitch's Akron Racers where she played for two seasons. She also played for Leopalace 21 of the Japan Professional League in 2009.
After her playing career concluded, she spent a season as the assistant coach at Syracuse University, mentoring a pitching unit that helped lead the Orange to a Big East title in 2010 and automatic berth in the NCAA Tournament. She also spent one year as the pitching coach at the University of Maryland, helping the Terps to an NCAA bid in 2011. In all four seasons as a pitching coach at the NCAA level, her team has made it to the NCAA Tournament. In all eight years she has been involved in the collegiate game, either as a player or coach, her team has advanced to postseason play.
Taking a break from coaching, Tincher O'Brien spent a year as a program manager for Insignia Athletics as the head of fastpitch softball glove and sales and has spent time as a color analyst for the USSSA Pride (NPF) and ESPN3 broadcast teams while also helping out as a pitching coach at Daytona State Community College for two seasons.
O'Brien and her husband, former Tech baseball player Sean O'Brien, live in Blacksburg with their son William, their daughter Finley, and their dog, Bailey.